Today, at the first-ever Shadow Spotlight keynote, cloud-computing specialist SHADOW detailed its strategic vision for the coming years and delivered on promises made to its community.
Now a global cloud-computing company chaired by Octave Klaba, OVHcloud founder, SHADOW is moving forward with a new cloud storage solution. With this re-launch, SHADOW positions itself as the definitive cloud platform for gamers, creatives, and businesses.
Shadow's Power Upgrade, the best of our cloud-computing technology, available to everyone to play, create, and work on any connected device
SHADOW's original product launched in 2016 offering the aim of allowing all individuals to enjoy the power of a high-end PC within the cloud. The revamped Shadow subscription service features an updated plan: while the starting price remains $29,99€ per month, we now offer a brand-new Power Upgrade, available for an additional $14,99€.
This new upgrade will help realize SHADOW's plan to introduce and sustain a more complete and adaptable offering, suited to everyone's needs, offering new technology at the best price. SHADOW strives to keep its promise: to democratize access to a PC with the latest components for as many people as possible, via the cloud, without needing to purchase a physical device.
So, what will be the configuration of the Power Upgrade?
An AMD EPYC™ 7543P CPU with 4 cores and 8 threads
The power of a high-end GPU, ranging from:

NVIDIA GeForce RTX™ 3070-class
NVIDIA's equivalent graphic cards tailored for professionals
AMD's latest RDNA 2 based GPUs, including the AMD Radeon™ PRO V620 GPU designed for cloud-computing and gaming

16 GB of RAM
The model of GPU included in specific Power Upgrade configurations will vary based on local data-center pick. Shadow will notably feature for the first time AMD EPYC™ processors and AMD's latest RDNA 2 GPUs running innovative cloud streaming software solutions as part of its offerings. Details regarding GPU territorial availability are forthcoming.
Shadow's Power Upgrade will be available for pre-order this summer, and globally available* this fall. An Early Access period will also be available for selected users ahead of general availability, for which details will be shared soon. Users can already register to be notified when the pre-orders go live in the coming weeks by following this link.
In addition to the availability of the Power Upgrade, the Shadow base offer continues to benefit from new features that expand or enhance the experience. SHADOW recently released dual and remote screen updates, enhanced colors with 4:4:4 chroma subsampling**, and the release of Shadow VR in Early Access, the first ever VR experience entirely powered by the cloud. Today, we also unveiled its new look, and the redesign of its overlay interface, offering an even more intuitive and responsive experience.
Our Shadow cloud-based computer also has the added benefit of an embedded 1Gbps fiber connection. And finally, users can also add extra-storage options, easily upgradable up to 2 TB.
"At SHADOW, we believe that cloud technologies have the potential to bring technological freedom to all," declared Éric Sèle, CEO at SHADOW. "That's why today, we're very happy to introduce a new milestone for our Shadow service, with our Power Upgrade."
"It is with excitement that we start a great new cooperation with Shadow, supporting them both with our CPU and GPU lines in a powerful package. This is an important step in accelerating their technological and geographic development projects," said Olivier Suinat, CVP Global Sales at AMD. 
Shadow will be available this fall in Canada and Austria, among other territories
SHADOW also proudly unveiled today that the base Shadow subscription plan and its Power Upgrade will be available soon in new territories, including Canada and Austria, this fall.
Users in these territories will be able to enjoy SHADOW's industry-leading cloud-computing features. Shadow availability in additional key territories will be announced in the future.
At this time, SHADOW's network of data-centers is composed of eight units, located in France, Germany, the United States and Canada. More openings are planned in our roadmap.
For more information about the Shadow Power Upgrade and the evolution of the Shadow service, please check the dedicated blog post.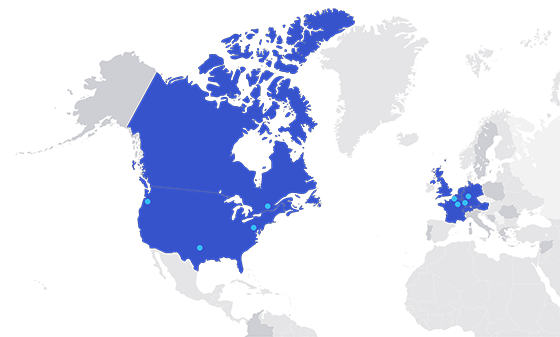 Today, with more than 150 talented people working either on site in the SHADOW HQ in Paris or remotely in North America and Europe, the company is actively recruiting for diverse roles. For those interested in joining the adventure, please visit SHADOW's careers page.
Shadow Drive, the online-storage solution by SHADOW, available this fall
SHADOW's vision and ambitions go beyond pure cloud-computing. Introduced today, Shadow Drive is a safe and affordable online-storage solution built in partnership with Nextcloud, the world leading open-source file-sharing platform. Shadow Drive will allow users to store their data while keeping it accessible from anywhere. Data will be accessible via web, desktop and mobile apps which will be unveiled soon. Shadow Drive is fully secured through traffic encryption and will be available in all markets Shadow operates in, through European operated servers.
Shadow Drive will be available for free with up to 20 GB of storage, while a premium version of the service will be available at $8,99€ a month, with up to 2 TB available.
Shadow Drive will be available in soft launch with selected users this summer, and available to all in Europe this fall, and soon in North America.

Our ambition to set personal technology free from its material boundaries is not just about cloud-computing. To go beyond, we have been developing Shadow Drive, our cloud storage solution, with the help of our prestigious partner Nextcloud, for which I thank Frank," explained Éric Sèle, CEO at SHADOW. "We are very excited with this combined European effort." 
"We have a common vision with Octave and Éric, and share values of excellence, openness and European sovereignty. This partnership felt natural and we are very happy to help SHADOW achieve its ambitions," said Frank Karlitschek, CEO at Nextcloud.