Audioscenic, developers of innovative 3D audio beamforming technology, today announce the launch of the Amphi Windows Suite, a set of software packages that integrates the company's Award-winning spatial audio technology into currently available laptop and desktop systems. Audioscenic will be demoing this technology at the Computex 2023 show in Taipei, Taiwan from Tuesday, May 30th to Friday, June 2nd.
"This is a major announcement for Audioscenic as it is a crucial next step in our goal of making spatial audio technology as accessible to consumers as possible without adding any additional hardware," said Audioscenic CTO Marcos Simón. "Any Windows device with two speakers or more is now capable of a dramatically improved spatial audio experience without headphones, thus allowing consumers to better enjoy the immersive audio available in today's games, films, and music."
The software packages include an AI-powered head tracking app that utilises the built-in camera of a laptop to monitor the position of the user's head in real-time and direct the audio beams accordingly, a control GUI that tailors the experience based on the type of media being consumed and also provides EQ control, and APO software that integrates Audioscenic processing in the Windows environment. Combined, the package provides hardware developers with a powerful tool to sculpt an individualised spatial audio experience for users utilising the existing infrastructure of commonly available laptop and desktop computers. Audioscenic initially debuted a version of this technology integrated into the Razer Leviathan V2 Pro soundbar at CES 2023 where it captured 12 'Best of CES' awards. The Amphi Windows Suite expands the footprint of this technology dramatically and sets the stage for the next generation of integrations into consumer products.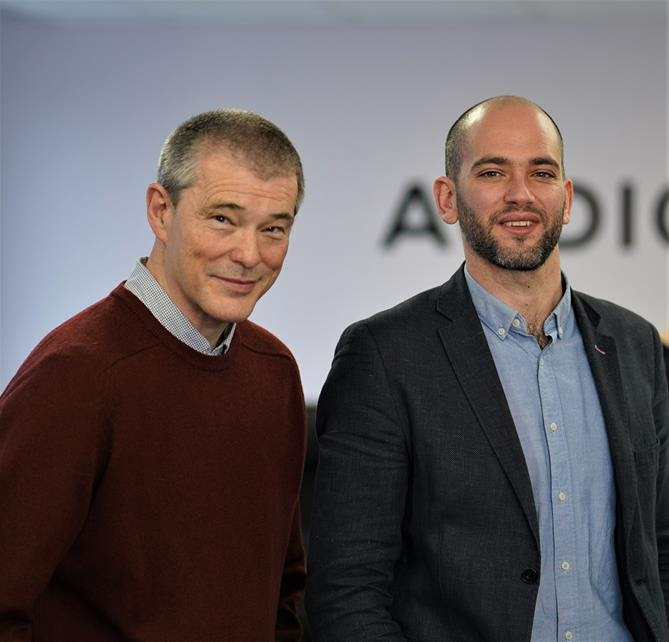 Image: Left, David Monteith. Right, Marcos Simon
"We're proud of how our company has grown within the last year and are ambitiously pursuing the next generation of our technology within the consumer computing sphere," said Audioscenic's CEO David Monteith. "We are very excited at the possibilities that this new software package presents to potential hardware partners, and look forward to seeing how implementing it accordingly will create a new heightened spatial audio experience for consumers around the world."
For more information about Audioscenic, please click here.