Indie Publishing Label Wired Productions and award-winning indie studio Hello There Games are proud to deliver to melomaniacs the musical and visual experience of AVICII Invector: Encore Edition to Meta Quest 2, available today at 5PM GMT / 6PM CET / 12PM ET / 9AM PT via the Meta Quest store.
The poignant trailer titled "The Journey" begins with cherished behind-the-scenes footage of the Swedish DJ Tim Bergling, most famously known by his professional name, AVICII, with Hello There Games CEO, Oskar Eklund, as they play the AVICII Invector prototype. The journey continues, with the emotional trailer showcasing AVICII Invector as it transforms from a concept to a fully realised game. Now, created in loving memory of Tim Bergling, Hello There Games and Tim's Father, Klas Bergling, are continuing Tim's vision of bringing new ways to experience his music, with AVICII Invector: Encore Edition for Meta Quest 2. Featuring 35 chart topping tracks such as Peace of Mind, Freak and S.O.S, AVICII Invector brings the futuristic rhythm action gameplay into a VR version.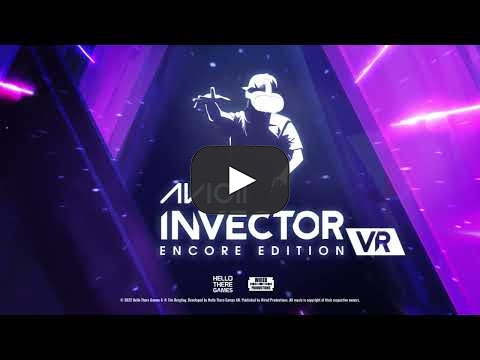 All music royalties from each copy of the game sold will go to the Tim Bergling Foundation, which advocates for the recognition of suicide as a global health emergency and actively works to remove the stigma attached to suicide and mental health issues.
"Tim's fascination with early prototypes of VR headsets can finally now be portrayed by the release of AVICII Invector on Meta Quest 2." Said Oskar Eklund, the CEO of Hello There Games, "We hope we've done Tim proud, as well as his father, Klas, as we worked passionately together to bring Tim's vision and music into the most immersive version yet. We hope AVICII fans and of music across the world enjoy the pulse-pounding beats in VR"
"We're proud to bring AVICII Invector to VR as we give fans of Tim's work another form to experience his music, this time in immersive 3D," said Leo Zullo, Managing Director, Wired Productions. "Music is an element of Wired Productions that resonates throughout the company and our passion and drive to bring the much-loved AVICII Invector and his songs to Meta Quest 2 is something we're delighted to deliver."
AVICII Invector: Encore Edition Features:
35 hit anthems from the phenomenal talent of late superstar AVICII.
SEVEN mesmerising worlds wrapped in a magnificent musical experience viewable in VR.
Turn up the volume and set yourself a challenge across FOUR complexity levels.
Lay down your high score and rise up the Global Leaderboards.
Explore a pure-hearted narrative journey set against the globally celebrated works of AVICII.
AVICII Invector: Encore Edition on Meta Quest 2 isn't the only game coming to the platform from Wired Productions, as the publisher and Meta bring new and existing IPs to the VR platform, with The Last Worker and Tin Hearts also coming to Meta Quest 2 in 2022.
AVICII Invector: Encore Edition is available at 5PM GMT / 6PM CET / 12PM ET / 9AM PT today for Meta Quest 2 for £24.99 / €29.99 / $29.99 via the Meta Quest store.
For more information, visit https://wiredproductions.com/games/