24 February, 2022 – Publisher Curve Games and Swedish indie development studio Neon Giant are excited to announce that the popular cyberpunk RPG The Ascent is coming to PlayStation 4 and PlayStation 5 platforms on 24th March 2022.
Pre-orders are now open and players will receive an exclusive RPEG 33 energy-type Rocket Launcher with a unique laser sight in the console's signature blue when pre-ordering The Ascent on PlayStation.
Co-founder and Creative Director of the studio Arcade Berg said: "We've been blown away by how amazing the response to The Ascent has been so far on Xbox and PC, so we are thrilled to be bringing the game to a new audience of PlayStation players. We started making The Ascent because we love making games and we want to share what we've made with as many gamers as possible in the hope that people enjoy playing it as much as we enjoyed making it."
Tor Frick, Creative Director and fellow co-founder of Neon Giant added: " Our wonderful community and their feedback is so important to us and helps us shape the game. It's amazing to look back and see how far we've come even since The Ascent first launched in July last year. We have been able to add new features that players want such as Photo Mode, Transmogrification and now New Game+, as well as the DLC packs. We're super excited to now be able to bring all of this to players on PlayStation and grow our great community."
Cyber Warrior DLC Pack
Steam players will also be able to get their hands on the exciting new Cyber Warrior DLC pack available today, which includes 2 new weapons, 1 new tactical, 7 pieces of armour and 3 new weapon skins. The Cyber Warrior DLC Pack is available now on Steam for $4.99 / £3.99 / 4.99€.
Cyber Warrior DLC Trailer: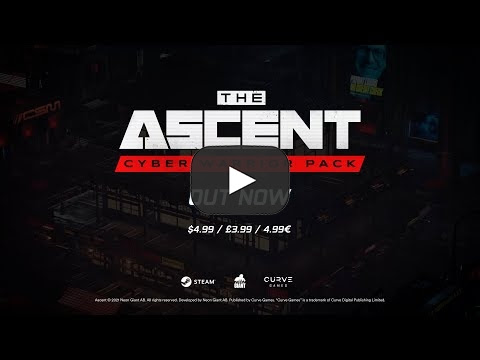 New Game+
From today, Steam players will be able to jump into The Ascent's highly anticipated brutal New Game+ mode, free for all players once they have completed their first playthrough of The Ascent, for a more challenging single player and co-op experience. Unlocking when players complete mission 12 of the base game, hardcore fans can battle tougher enemies with extra abilities and enemy projectiles that are much faster and harder to dodge. Levels are increased to 30 and up and weapons can be upgraded past Mk.10.
Pre-order here today:
PS4 EU: https://store.playstation.com/product/EP4395-CUSA14650_00-THEASCENTPREBUND
PS5 EU: https://store.playstation.com/product/EP4395-PPSA02592_00-THEASCENTPREBUND
PS4 US: https://store.playstation.com/product/UP4395-CUSA14683_00-THEASCENTPREBUND
PS5 US: https://store.playstation.com/product/UP4395-PPSA02593_00-THEASCENTPREBUND