With the new school year just around the corner, help your kids to transition back to school life with these practical yet cool gadgets and accessories. Whether it's helping them to get up in the morning or improving their homework experience, there is something for pupils of all ages, from primary school to university.
Price: £29.99 REVIEWED
Available from Groov-e
These headphones are ideal for online learning and group homework projects, in addition to leisure activities. The Groov-e Kidz are designed with kids in mind, the soft ear pads ensure a comfortable fit for long periods of time.
Suited for use with all devices, these headphones even include a built-in audio-sharing port for them and their music loving friends to listen together. The Kidz headphones offer up to 7.5 hours playtime however the optional 3.5mm headphone jack means they can continue to be used for even longer. They are available in blue or pink.
Groov-e Apollo
Price: £29.99 REVIEWED
Available from Groov-e
Perfect for students of any age – whether they're doing homework on their computer, reading books before bed or chilling after a busy day in lectures – the Apollo is a stylish LED lamp, wireless charger and Bluetooth speaker in one.
Lightweight, flexible and USB powered, the touch-controlled Apollo can be used anywhere. To give a compatible mobile device some extra juice simply place it on the base of the lamp for safe charging with no messy cables. Simply connect to the Apollo via Bluetooth and users can hear their favourite tunes around the room through the built-in 3W speaker.
Available in black or white, the Apollo provides a warm LED light with three colour settings making it a must-have for any desk or bedside table.
Groov-e Light Curve Wake Up
Price: £39.99
Available from Groov-e
If getting them up for school in the morning is a challenge, particularly in the winter months, this radio alarm clock is ideal. The sunrise simulator function offers a more natural wake up, which is ideal for dark mornings. The Light Curve also has seven different mood light functions, perfect for bedtime reading. Older children or university students will also appreciate the FM Radio function so they can listen to music while getting ready for school.
Groov-e Aura
Price: £44.99
Available from Groov-e
The perfect home study companion, the Aura is a 3-in-1 wireless charger, Bluetooth speaker and touch control LED light. With a futuristic yet subtle design that will look good in any room, users simply place their device on the integrated charging base to give it more juice. What's more if they want to listen to their favourite tunes while doing homework, the built-in Bluetooth speaker means they can do just that.
Whether reading before bed, getting ready in the morning or studying, the three LED light settings of low, medium and high mean users can choose the best lighting to suit their needs.
Twelve South Compass Pro
Price: £49.99
Available from Amazon UK
The iPad Pro is the perfect gadget for creative children and students and the Compass Pro is designed with creativity in mind. This versatile, all-metal folding stand, described as the iPad's 'easel', can hold the iPad at three different angles for when they're sketching, doing homework or learning remotely. As well as its stylish, high-quality finish, the Compass Pro folds away and so can be used at home, school, university, coffee shops and more!
Twelve South PowerPic
Price: £79.99
Available from Amazon UK
The PowerPic, a wireless phone charger disguised as a picture frame, is ideal for students returning to university accommodation. The perfect desk or nightstand companion, it charges their phone wirelessly while also displaying their favourite photo, whether that be of family, friends or pets! It also charges through phone cases up to 3mm thick.
Twelve South HiRise Wireless
Price: £79.99 REVIEWED 
Available from Amazon UK
HiRise Wireless is a 3-function beauty: a gorgeous upright desktop stand for mobile phones, a wireless charging pad for AirPods and a USB-C portable wireless charger for travel, all in one beautiful chrome and leather package. It's a useful gadget for students who are always on the go and need to stay connected.
Twelve South HiRise for MacBook
Price: £59.99
Available from Amazon UK
People of all ages suffer from neck pain caused by poor posture and too many hours spent looking down at a screen. Having a good laptop stand like the Twelve South HiRise for MacBook will make studying instantly more comfortable and healthier. HiRise for MacBook is a beautifully designed, height adjustable stand that elevates your laptop. HiRise does what fixed stands can't do, letting you set your screen height from a few inches up to half a foot off your desk making it perfect for MacBook users of all sizes.
Groov-e Artemis
Price: £34.99
Available from Groov-e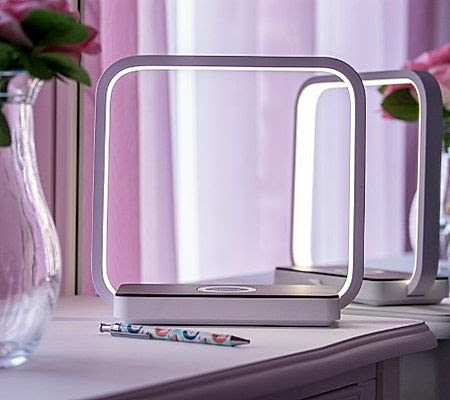 The sleek and stylish Artemis is a wireless charging station and LED Touch Lamp in one. Available in black or white, it is the perfect gadget for teenagers' bedrooms or student accommodation, simply place a wireless enabled device on top of the Artemis for quick and convenient wireless charging.
With a unique and modern design, the Artemis also features a touch sensitive light bar which provides three brightness settings (low, medium and high) using long-life energy saving LED's.
Evernote
Price: Basic package is free
Available from Evernote
For older children and college/university students, organisation is key but also a skill that takes time to master! Evernote takes the stress out of managing their own time and to-do lists, by offering them a digital solution with reminders. It is also compatible with voice command, which is perfect for the younger generation.
Pocketalk
Price: £249.00
Available from Amazon UK
A must-have gadget for any students studying abroad this year, Pocketalk S is a multi-sensory, two-way translation device designed for easy naturally flowing conversations, even in noisy environments. With a sleek design encompassing a large touchscreen, two high-quality speakers, noise-cancelling microphones and a text-to-translate camera, Pocketalk S is able to create connections across 74 different languages in over 130 countries and regions. By utilising the best translation engines from around the world, Pocketalk S provides a consistently accurate translation for deciphering public transportation signs, menus, and creates the best experience by picking up localised dialects and slang.