Taskade, a Y-Combinator backed startup, launches a real-time organization and collaboration platform for remote teams. This week, it announced it will be offering a 6-month free upgrade to its Pro version to support businesses and individuals adopting remote work amidst the COVID-19 situation.

Taskade is a real-time workspace for remote teams to manage tasks, write notes, and video chat together, on the same page.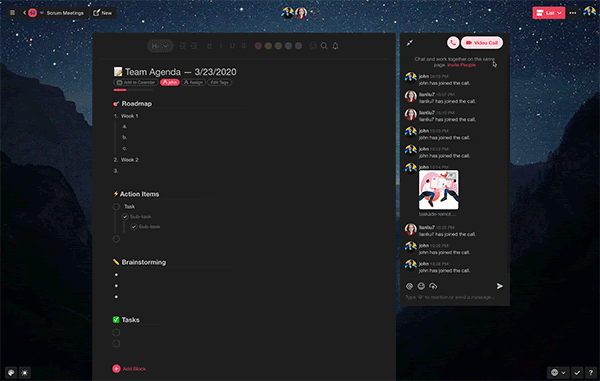 In the past few weeks, the world has witnessed an unprecedented transition to work-from-home as businesses and organizations try to keep staff safe. But the overnight pivot to remote work has left many employees who haven't previously worked off-site struggling with productivity and without access to adequate tools.
And these problems are all too familiar for the Taskade founding team.
"By the time we started Taskade, we had been working together as a remote, distributed team for many years. Despite our experience working remotely, we were frustrated about having to hack together multiple tools in order to get things done. Taskade is truly a remote-first tool." says John Xie, Taskade's Co-Founder and CEO.
Employees need a quick and easy way to dive into the work without the need for extensive training or high-level technical support. That's why Taskade provides a user-friendly solution that lets fully distributed teams organize work, communicate via chat and video, share documents, manage tasks and collaborate in real-time.
If you have used tools like Asana, Trello, Todoist, Zoom, Microsoft Teams or Slack, you will feel at home as Taskade combines all the essential ingredients needed for remote collaboration into one simple tool. Another good news is that it's available on all popular operating systems, including Windows, Mac, iOS, Android, and as a browser extension and syncs in real-time.
Last year, the company secured a $5M seed investment from Y-Combinator and Grishin Robotics.
"We believe Taskade is fundamentally changing remote team collaboration by providing one tool that teams need to get work done effectively. Taskade provides a real-time, device-agnostic and cross-platform experience to end-users. We are excited to be part of the journey with the Taskade team," said Dmitry Grishin, managing partner at Grishin Robotics.
If you're interested in taking the app for a spin, head over to https://www.taskade.com/ to create a free account. You can also download Taskade's mobile and desktop apps for all your devices at https://www.taskade.com/dow