Global audio specialist Brainwavz, established in 2008 with a focus on offering high quality products at competitive pricing, today announces the availability of its HM100 high-performance Studio Monitors with stunning deluxe styling, a real leather look and genuine wooden earcups. These studio monitor headphones don't artificially colour your music like most other headphones and speakers do; the mark of true professional quality audio reproduction. Hear music and speech just as it sounded in the original microphones, uncoloured and unchanged.
The HM100's do not only sound great, but look great too. Featuring a comfortable, padded headband with stylish tan colouring it matches perfectly with the polished real wood. The total effect is simply stunning and users are sure to enjoy the superb engineering, unmatched design, and true craftsmanship. A perfect combination of unsurpassed comfort and audio excellence.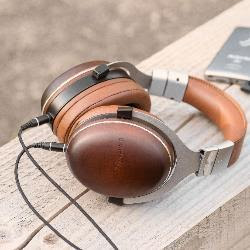 Ideal for the home studio enthusiast or high-end content creator, the HM100 will help in achieving the best sound you can and the best output from every project. Those who just want to listen and enjoy, can be assured knowing that the HM100 will open your ears to a sound you never knew existed whilst also offering true comfort and that stylish retro look.
Brainwavz confidence in the build quality and performance of the HM100 is clearly shown as it provides a full 24 month warranty, any problems and its dedicated support team are always on hand to help.
Brainwavz is confident that the HM100's significantly outperform other comparably priced headphones in the market today with its premium materials, refined sound signature and stylish design. Quite simply, when you want to enjoy the very best of your music, the HM100's are the only choice.
The Brainwavz HM100's are currently available on pre-sale with 15 percent off for £130.98/$169.50/€147.70 reduced from £154.16/$199.50/€173.84.
Specifications:
Drivers:  Dynamic, 52 mm
Rated Impedance:  64 Ω
Frequency Range:  10 Hz ~ 40KHz
Sensitivity: 96 dB +/-3dB at 1 mW
Max. Input Power : 1000mW